Spanning from the rivers of the Dominican Republic, to the shimmering beaches of Brazil, sunsets of New Mexico, the maguey speckled hills of Oaxaca, Mexico and so much more, these founders imbue their love of the natural world from their Latin American mother countries into everything from cacao mix, replenishing skin oils, perfumes and spirits.
Perfect for a loved one's birthday or a well-deserved self-indulgent treat, these carefully curated picks offer a little something for any occasion. Save this list of exemplary Latinx-owned companies that are looking forward to a more beautiful, sustainable, equitable and delicious future.
This ensemble mezcal Agua Mágica ($76 $65 at Bevmo), produced in the mystical maguey-country of San Juan Del Río, Oaxaca, takes a fresh approach to the craft: honoring slow, small-batch, ancestral Indigenous growing and distilling practices. Founder Rafael Shin is devoted to a crafting process that is anti-industrial, honing in on a much more personal approach that centers community and tradition, with Shin giving 5% of the yearly profits of this mezcal to five family-run palenques through their "Empowering Mezcaleros" program.
Aside from the jewel-like packaging that make this mezcal a prized gift for any occasion, the delicate flavor profile is one that is nuanced and delicious served neat, or complementary in virtually any cocktail. "My hope is that Agua Mágica helps more people enjoy mezcal as native Mexicans do, gaining an appreciation for the nuances of how it's crafted and the terroir of where the agave is grown," Shin says. "It's something that is so common in the world of wine — enthusiasts are well-versed in the differences in flavor and production method from one region to another. My goal is that people will approach mezcal with just as much appreciation for the particular people and place that made it."
Bichi Wine
Bichi, which is slang for "naked" in Mexican Spanish, is the name of this Mexican-made natural wine company located in Mexico's wine country, Valle de Guadalupe. Founded in 2014 by brothers Noel Téllez and chef Jair Téllez, this low-intervention wine takes a keen interest in obscure and little-known grape varietals. Most famous for its orange, a blend of Chenin Blanc, Sauvignon Blanc and Moscatel, called 'La Gorda Yori' ($43), it comes from a once-abandoned vineyard in Tecate, and has herbal notes with a citrus bite and just enough funk.
Birdy Lashes
Birdy Lashes is a Latina-owned beauty company that creates affordable vegan and cruelty-free luxury false eyelashes and liquid liner inspired by the founder Yasmín Maya's love for beauty and her Latinx culture. Maya, who lost her eyelashes after an accident, wants to help people feel beautiful and luxurious at an affordable price.
"My lashes are for everyone, but especially my Latinx people," Maya says of her magnetic lashes ($12 at Birdy Lashes). "I always try to make my people feel seen and represented in everything I do. My culture inspires me through the idea behind my campaigns and name products. In everything I do, my Latinx heritage will always play a big role because it is who I am and I'm always proud to represent."
Casita Evita
Browsing through Casita Evita's virtual shop founded by recipe developer Alexa Soto is like shopping through Soto's warm and beautifully stocked kitchen. Casita Evita opened in 2022, and caters to the cook who is nostalgic for Mexico and revels in the ancestral craftsmanship of handmade goods using barro, wood and glass for cooking and serving your dream Mexican dinner.
"Casa Evita was started because we wanted to support small artisans throughout Mexico and help get their truly unique and beautiful pieces in peoples homes and kitchens," Soto says. "Our business is run by two proud Mexican American women who have a love for authentic ceramics and Mexican made pieces. We feel deeply connected to our culture through food, music and the hand made pieces made by talented artisans throughout all of Mexico."
Ceremonia
Ceremonia is a clean hair brand dedicated to creating sustainable and nutrient-rich oils like Aceite de Moska for scalp care ($28 at Ceremonia), shampoos, masks and sprays, from roots to ends dedicated for and inspired by founder Babba Rivera's Latinx heritage.
"My father was a hairdresser back in Chile and I grew up with a front row seat to Latin American beauty rituals as a result," Rivera says. "My dad would spend hours braiding my long hair, and my mom and aunties would invite me to their beauty practices using natural ingredients they knew and loved from passed down rituals. My mother also taught me self-worth by practicing it herself, carving out the space for two hour baths and showers unapologetically as a mom of two. All of these memories have played an instrumental role in the creation of Ceremonia."
Costa Brazil
Founded by designer Francisco Costa, who was formerly the women's creative director for Calvin Klein for 13 years, Costa Brazil is a skin care brand richly steeped in Costa's sun-soaked Brazilian roots. Launched in 2018 with a passion for luminous, replenished skin and the roll-on aroma in oil ($78 at Costa Brazil) that smells slightly different on every body, Costa says his beauty brand is for everyone everywhere. "It's for those who care about the planet, who enjoy a moment in nature, who believe that putting themselves first isn't selfish, but necessary."
He adds, "Everything about my Brazilian heritage is infused into this line, perhaps mostly my perspective on sustainability, which comes from my mother. For her, it wasn't just about using materials responsibly sourced from nature, but also how to support the community around and behind any one item. If it's not sustainable for the people and the planet, then it's not sustainable. Of course, there is the approach to beauty that is distinctly Brazilian as well. At home, everyone is comfortable in their bodies; they aren't hiding their skin — they're celebrating it."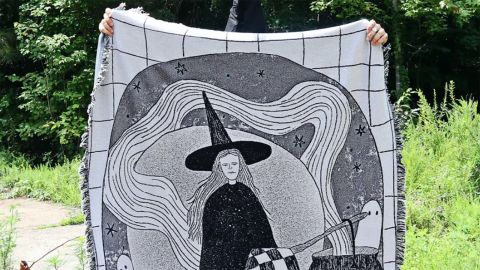 La Comida de Jeremie
Puerto Rican artist and vegan recipe developer Jeremie Serrano is a queer New Englander currently based out of Memphis. With previous work featured in places like Pixar, Serrano marries his love for illustration and all things spooky with a little sazón and ode to his heritage not only in his work, but in his online art shop, where folks can shop canvas tote bags ($35 at La Comida de Jeremie), printed tees ($33 at La Comida de Jeremie), a vegan e-cookbook of Puerto Rican classics ($15 at La Comida de Jeremie) and more!
Serrano says his Latino and Puerto Rican heritage play a big role in how he approaches his work, "Something I try to focus on is how different my community is and also how we relate to each other through our traditions," he says. "I want to honor the diversity of our people and our ancestors, we love our sofrito and salsa but also our rock n' roll and hip hop."
Earth's Shell
Estefani German, founded Earth's Shell with the purpose of formulating a bath, body and skin care company using pure and gentle ingredients. From shell-repair elixirs ($54 at Earth's Shell) to body oils and soaking salts, German says her formulas cater to "the Latina woman who knows that a little goes a long way, but won't settle for less."
Using plant-derived ingredients like bakuchiol and squalane, German takes inspiration from her Dominican heritage by honoring the purity of its land, and creating "products formulated with a clean purpose." "Earth's Shell has inspired many," German says, "but more importantly, Earth's Shell is inspired every day by the Latinas who came before and those who follow and are leading the way."
Hedley & Bennett
The tough, durable and stylish apron (From $58 at Hedley & Bennett) developed by Hedley & Bennett got its start in a professional Los Angeles kitchen out of necessity for better quality cooking gear. After working with a handful of chefs to create a functional apron to survive any kitchen, founder Ellen Bennett expanded the brand to include chef knives, shoes, and accessories.
"I truly believe my Latinx heritage helped me take the leap to start Hedley & Bennett," Bennett says. "I grew up watching my single Mexican mom and all of my tias and tios literally say yes to every opportunity in life and always figure out how to make it happen with a relentless willingness. I don't think I'd be where I am today without that drive."
Hernán Herdez
Hernán Herdez is a handmade jewelry line that uses recycled metals by Puerto Rican designer and art director Melissa Hernández with the help of local silversmiths. For Hernández, her jewelry evokes the spirit of Puerto Rico.
"One of my main inspirations for Hernán Herdez will forever be my precious Caribbean," Hernández says. "However, it's a bit difficult to define a specific inspiration source for the brand since my inspiration and goals are in constant change. Hernán Herdez is about making a statement, and my fellow Puerto Ricans do know how to make a statement. We don't like to go unnoticed. We make ourselves present, we are the life of the party, WE ARE THE SAZÓN. I believe that all of this comes through in my work somehow."
Luiny
Luiny is a contemporary jewelry line based in New York by self-taught Puerto Rican designer Luiny Rivera that creates vibrant metal jewelry pieces. Rivera says she draws inspiration from finding beauty in "things, surroundings or places." The Puerto Rican artist left her home of San Juan for New York, but it's home where she finds inspiration for her pieces.
"It's the colors of my island for me. We Caribbean women love to wear jewelry, we are very coquette and colorful. I'm not bragging when I say that Puerto Rican women are one of the most beautiful women in the world, so my island and their women are a total inspiration. Every time I go to the Island I come back to New York feeling renovated and ready to design something new."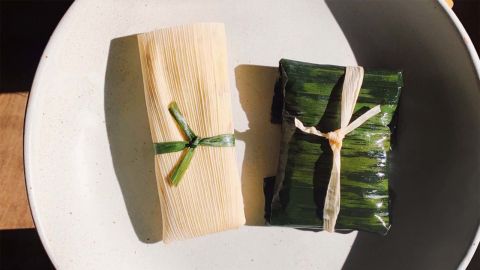 Masa Memory
Inspired by southwest New Mexico sunsets, family food traditions and Indigenous foodways, Masa Memory founder April Valencia started the company during the pandemic by selling handmade flower pressed tortillas out of her cozy cottage in LA's Laurel Canyon. Since then her concept has taken off, and Valencia works with regenerative farms and countless nonprofits with a focus on protecting seed conservation and Indigenous farming practices and sovereignty, among others, with an emphasis on Mexico.
Recently, Masa Memory has cooked up a vegan Sonoran sunset cacao ($36 at Cap Beauty) in collaboration with Cap Beauty Daily that has a spicy kick and creamy body. Masa Memory's other year-round offerings, like the smoked morita chile rose moon vinegar hot sauce, and vegan new moon moles are available on their website, and not to be missed when they're available in the Los Angeles area.
Masienda
Committed to quality and heirloom single origin ingredients, Masienda has partnered with hundreds of farmers and craftspeople in Mexico honoring ancient and traditional techniques to provide US restaurants and home cooks alike with the best tools like the Doña Rosa tortilla press ($95 at Masienda) and ingredients like masa harina (From $10 at Masienda) to make age-old Mexican and Latin American dishes.
Founder Jorge Gaviria, who grew up in Miami, says tasting the flavor of a well-made tortilla in Oaxaca "felt like returning to a home I'd never known." "I started Masienda to import heirloom corn from farming communities in Mexico, so that more folks could make masa the traditional way. The flavor of masa made from nixtamalized, heirloom corn is so distinct: once you've had a tortilla like that, you really can't go back. Thanks to the growth of Latinx diaspora communities in the US, the development of modern Mexican cuisine, and growing support for single-origin ingredients, we don't have to."
Muchacha
Muchacha is a Colombian coffee company who abides by a standard of transparent and traceable female-owned coffee supply chain. Their delicious single-origin coffee bags are for sale a la cart (From $16 at Muchacha), or you can sign up to their membership (From $23.50 at Muchacha) to receive a fresh batch each month.
Founder Diana Hoyos says, "Muchacha is for everyone. Muchacha can be the mother that embraces and protects and also the girl that dreams of living in a better world, we intend that the people that drink our coffee can feel in each sip the love and the work that each one of the women put into the final product. It is for a conscious buyer that wants and is interested in knowing who makes their coffee. This is what makes it unique without leaving aside that it is specialty coffee and also that it is Colombian. Here the people are drinking the fruit of the work of all these women in each one of their processes."
Nopalera
Founded by Sandra Velasquez, Nopalera is a bath and beauty company that produces nopal-based soaps ($14 at Nopalera) and exfoliants ($32 at Nopalera) paired with wildcrafted ingredients for a luxurious fresh and fragrant bathing experience. From soaps to exfoliants, her formulas — which celebrate her Mexican culture — have cacti, botanicals and plants at their core. Velasquez says she was inspired to create Nopalera because she saw a lack of high-end Latina brands in the beauty space. "I set out to create a beautiful culture forward brand that overtly celebrated Latino culture to disrupt the historically Eurocentric beauty space," Velasquez shares.
Pinole Blue
Based in Wichita, Kansas, this Mexican-owned company was founded by Eddie Sandoval, who got his start in his college dorm room. Pinole Blue sells pinole (From $11.50 at Pinole Blue), a maíz product that is roasted, ground up, can be flavored sweetly and had as a drink or baked into goods like cookies for ultimate energy and endurance.
Aside from pinole, it also offers heirloom maíz tortillas and a plethora of cookies and energy-fueled bites. The company gives back to the Tarahumara people (famously known for their long-distance running practices) in the mountains of Chihuahua, Mexico by partnering with grassroots organizers of the community. As a first-generation Mexican-American Sandoval says, "Pinole Blue has been a way to share ancient culinary recipes while providing a taste of history, all by using corn."
For the person who wants nourished and styled spirals, put Rizos Curls on your list. With a commitment to natural ingredients, Rizos Curls is a hair product line dedicated to curls of all shapes and sizes made with natural ingredients, from oils ($25 at Rizos Curls) to shampoos ($20 at Rizos Curls), defining creams ($22 at Rizos Curls) and flax seed gels ($22 $20 at Rizos Curls) inspired by the founder Julissa Prado's own curly hair journey.
"No product on the market gave me the definition I needed for my own curls. I told myself that one day I would create the very best product for curly-haired girls like me," Prado says. "I wanted a product made with quality ingredients that could celebrate all curl types, from my Tia's coily strands to my sister's loose waves." For Prado, her Latinx culture is at the heart of all she does: "We exist to empower our customers and beyond to uplift and celebrate Curls, Community and Culture. It's important for me to uphold those three C's because that's where the representation we seek lies in."
Santos
New York-based sustainable fashion brand Santos is conceptualized and brought to life by Puerto Rican designer, Mónica Santos Gil. From structural and chic triangular agave totes ($295 at Santos) to beautiful block colored cropped tops and high-waisted bottoms ($195 at Santos) — all of her line is hand-made and produced using materials from the earth like cactus, lyocell (made from eucalyptus trees) and cotton.
Her sustainable approach extends beyond using biodegradable materials. Santos has also partnered with One Tree Planted and plants a tree for every piece sold. Of her work, which is inspired by architecture and interiors, the designer says, "I have sought to bring a refreshing and energetic perspective reflecting the traditions of my Puerto Rican upbringing in a new environment to create something unique and personal for me."
Xinú, Otomi for 'nose', is a botanical shop and parfumerie based in Mexico that draws inspiration from the scents of the Americas. With four shops in Mexico, Xinú's website reads that designer Ignacio Cadena "documents and pays homage to the visual and olfactory vastness of the America's botany." Scents like "UMMO" (From $98 at Xinú) — a play on 'humo,' meaning smoke in Spanish — boast elements like tobacco and juniper. Xinú also encapsulates the olfactory geography of Mexico and beyond through home scents and hand lotions, an intoxicating ode to the land.
Xula Herbs
Crafted by founders Karina Primelles and Mennlay Golokeh Aggrey, Xula Herbs is a Mexico-born and Latine and Black-owned herbal company that centers the healing properties of hemp in conjunction with other herbal botanicals to provide beautifully designed functional plant allies for better sleep ($68 at Xula Herbs) and happier periods ($48 at Xula Herbs). Co-founder Primelle says, "For us, Xula Herbs has always been about providing products of exceptional quality that can help people connect and heal through plant medicine and at the same time using our platform to amplify our communities. Since our roots are Mexican, Latinx culture is a central part of who we are and who we wish to give greater representation."
Yay For Earth
Made by using four simple sustainably-sourced ingredients that honor the earth, founder Stevie Van Horn started her company Yay For Earth with a sensitive skin face lotion (From $21 at Yay For Earth) that she says is, "nature on your face." Starting her enterprise in a small Brooklyn apartment, buying beeswax sourced from local beekeepers devoted to the repopulation of bees, Van Horn now has extended her line to include a bamboo hairbrush that has a comfortable hand feel and stimulates your follicles for a scalp massage as you brush, along with a body oil and hydrosol face spray that smells like being in the neck of the woods.
Of her Mexican roots, Van Horn says, "Being able to lean into my heritage, learning my culture, the language and reviving the courage and pride my late abuela instilled in me has been so freeing. I want Yay for Earth to represent everyone from every walk of life and culture."