Have you ever heard of check washing fraud? It's a simple yet clever scam that criminals will use to steal money that is rightfully yours, and they typically get away with it.
Here's how to avoid this scam from happening to you.  
What is check washing fraud? 
Check washing fraud is when important information is removed from an original check and new information is added on. Typically, a scammer will use some sort of acetone solution like nail polish remover to carefully remove the information on the check. They then will use the same type of ink that was originally used on the check, and if it looks close enough to the original handwriting, it will typically be cleared. 
CLICK TO GET KURT'S CYBERGUY NEWSLETTER WITH QUICK TIPS, TECH REVIEWS, SECURITY ALERTS AND EASY HOW-TO'S TO MAKE YOU SMARTER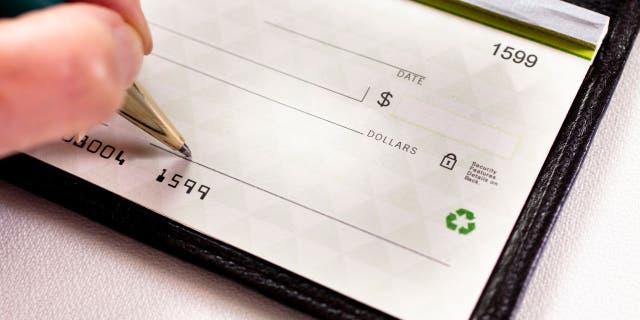 This allows the scammer to get the money that was supposed to belong to you, and you are left waiting weeks for your money to come. The worst part is you do not have to be super skilled to make this type of fraud successful. However, there are numerous ways to prevent this from happening to you if you follow the steps below. 
How to avoid being a victim of check washing 
The main way to avoid check washing is to try to pay online with a credit card whenever you can and avoid using checks altogether. Many services will have an online system for paying, so you're better off using that option. If you do have to pay via check, see if there is a "bill pay" option. This will mean that the information will be printed onto a check and a scammer will not be able to remove the information. 
CONNECTICUT BUSINESSMAN GETS 8 YEARS FOR ROLE IN LAWMAKER'S COVID RELIFE FRUAD SCHEME
If writing a check is the only form of payment you can make for a specific service, make sure you're using a black gel pen. These types of pens have ink that can rarely be removed, which would be a serious issue for a scammer.
You should also be cautious of the steps you're taking to mail a check. The safest place for you to mail a check would be the post office. However, if you do not have time to get there and can only mail from your home, just make sure that you're never leaving a check in the mail overnight. This would give a criminal plenty of time to snatch it before your mail person can even get to it.
DID YOU ACCIDENTALLY DELETE THAT SENTIMENTAL TEXT MESSAGE
What if I'm away and expecting a check in the mail? 
If you're expecting a check to come for you in the mail and you know that you won't be there to retrieve it, you can arrange for your mail to be held via the USPS Mobile app. The app is available for both iOS and Android phones. If you are outside the U.S., you can call your post office and let it know you will be out of town, and they will assist you. You can either arrange for your check to be delivered to you the following business day after you're home or go pick it up at your post office. 
How else can I protect myself? 
If you think you've become the victim of a scam, contact the Better Business Bureau. You can file a complaint with them 24/7. Besides the BBB, you can also use IdentityTheft.org or call 877-438-4338 if you feel that your identity has been stolen or misused.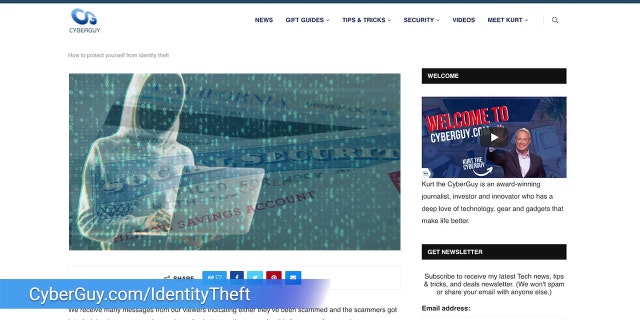 Use Identity theft protection 
Identity theft companies can monitor personal information like your Social Security Number, phone number and email address and alert you if it is being sold on the dark web or being used to open an account.  They can also assist you in freezing your bank and credit card accounts to prevent further unauthorized use by criminals.  
One of the best parts of using my No. 1 pick includes identity theft insurance of up to 1 million dollars to cover losses and legal fees and a white glove fraud resolution team where a U.S.-based case manager helps you recover any losses. 
CLICK HERE TO GET THE FOX NEWS APP
See my tips and best picks on how to protect yourself from identity theft by visiting CyberGuy.com/IdentityTheft.
Copyright 2023 CyberGuy.com. All rights reserved.