During the pandemic, Face ID received a lot of scrutiny for not functioning correctly, and it simply did not work whenever you were wearing your mask and attempted to unlock your iPhone. Before that realization, I'm sure you also noticed Face ID was much slower at unlocking your device when compared to its predecessor, Touch ID.
Implementing this innovative and seemingly secure way of unlocking your precious iPhone was nothing short of a disaster. So many complaints flooded Apple's inbox it felt compelled to release the iPhone SE, reintroducing the Touch ID sensor for all those who despised Face ID.
Thankfully, since then, Apple has picked itself up by its bootstraps and completely upgraded this feature, making it a must-have for anyone with an iPhone.
CLICK TO GET KURT'S CYBERGUY NEWSLETTER WITH QUICK TIPS, TECH REVIEWS, SECURITY ALERTS AND EASY HOW-TO'S TO MAKE YOU SMARTER
What is Touch ID? 
This feature came before Face ID, and after the traditional 4-digit passcode lock screen. It's a biometric authentication feature that recognizes your fingerprint to verify your identity. You essentially place your finger on your iPhone's "home button" for a few seconds, and your iPhone magically unlocks.
DID YOU ACCIDENTALLY DELETE THAT SENTIMENTAL TEXT MESSAGE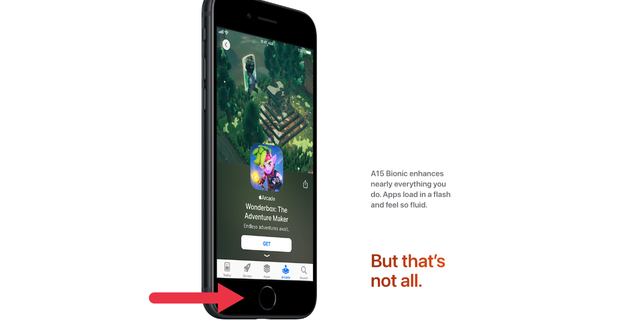 Unfortunately, Apple has banished this feature in favor of buttonless phones. Don't fret, however. Face ID is just as remarkable. After several upgrades, it's as fast as Touch ID and now works with a mask or glasses.
What is Face ID? 
Face ID utilizes facial recognition technology to scan your face and verify your identity. When activated, the feature uses the front-facing camera, or selfie cam, to securely authenticate you are the owner of the iPhone. For it to work, however, you need to activate it; here's how.
How to unlock your iPhone with Face ID 
Don't worry. This feature now works with either a mask or glasses as long as you have an iPhone 12 or later running on iOS 15.4 and later.
Start by launching your settings app and tap Face ID & Passcode.
APPLE'S CRUCIAL NEW IPHONE WARNING ABOUT POTENTIAL HEALTH RISK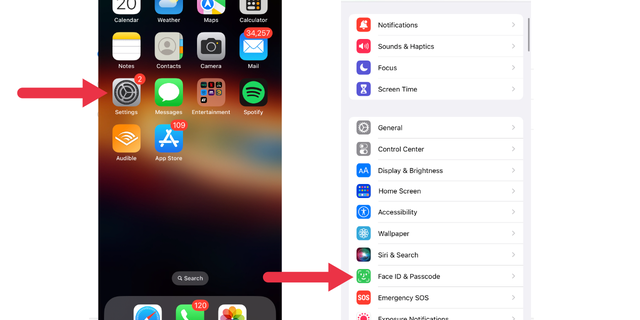 Be sure to enter your numerical/alphabetical passcode if asked. If one still needs to be set, you may need to create one before moving on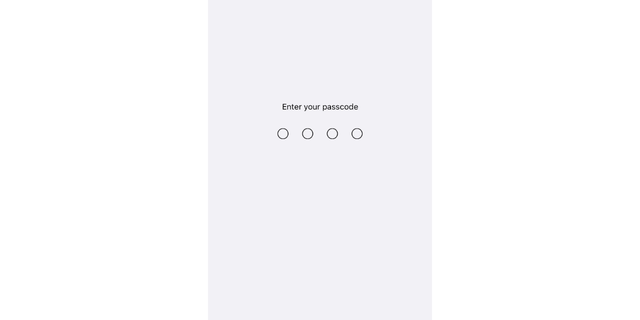 Next, scroll down and turn on the Face ID with a Mask option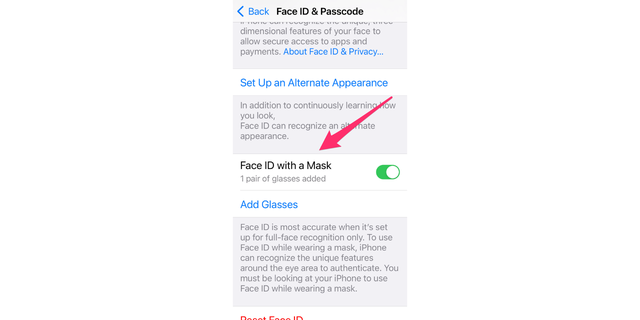 IPHONE OWNERS OUTRAGED OVER FORCED CLEAN ENERGY USAGE SETTING
Now you can select Use Face ID with a Mask and follow the prompts.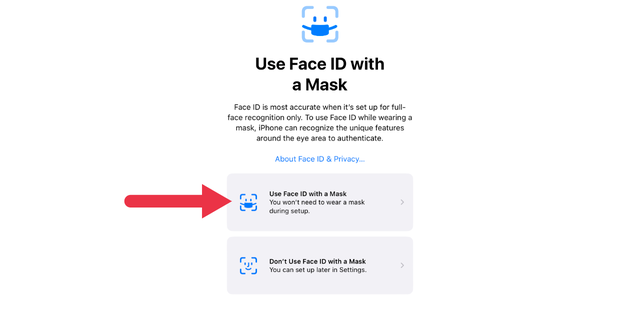 Begin by holding your device in portrait orientation and position your phone directly in front of your face, then tap Get Started
Place your face inside the frame displayed on your phone and gently move your head in a circular motion.
Once completed, tap continue and move on to the second scan. Once again, you will position your head within the frame provided and move your head to complete the circle on your screen.
Lastly, tap done. Your phone is now protected by advanced facial recognition technology. Feel like an undercover international spy yet? Before you say yes, you should be aware of some dangers associated with Face ID.
How to Use Face ID with glasses 
When adding your new appearance to your Face ID settings, you can select the "Add Glasses" option for your device to recognize you when you have your eye gear on.
APPLE'S NEW TACTIC TO GET YOU TO BUY MORE IN A TOUGH ECONOMY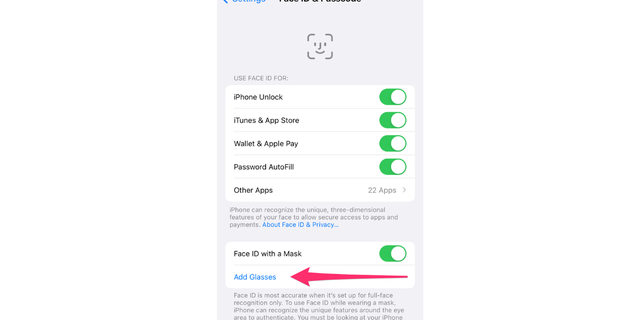 Once you select "Add Glasses," you will be brought to the following screen, which will then guide you through the process of scanning your face with your glasses.
Be sure to have your glasses positioned on your face correctly then tap continue. For the following step, rotate your head as directed for the device to fully scan your face with your glasses.
HOW TO UNLOCK AN APPLE DEVICE WHEN THE OWNER PASSES AWAY
Now that you registered your face with your glasses to your iPhone's security system, you can unlock your Apple device by simply looking at it and swiping up.  If you have multiple pairs of glasses, repeat the steps above for each pair.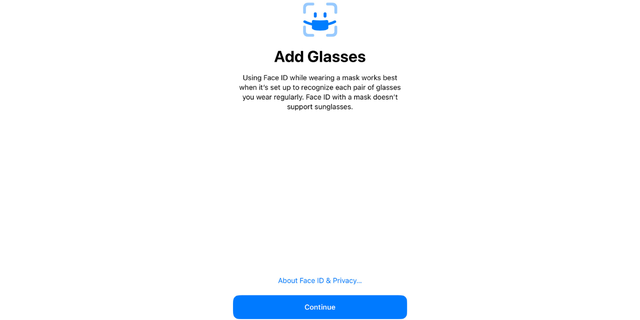 To ensure this feature functions correctly, keep your glasses clean and smudge-free, be sure your glasses are on correctly and don't let the frames obscure your face or let the glasses slide down your nose.
If you are having issues with a new pair of glasses, you may have to repeat the steps above to register your new frames to your phone.  With these tips, you should be able to use Face ID with your glasses on more easily.
Dangers of Face ID 
Although this technology seems advanced and convenient for those with an iPhone, the software is far from perfect.
Due to infrared sensors utilized by Apple's facial recognition technology, the Face ID feature will likely fail in the dark and require you to enter your standard passcode.
SECRET IPHONE GESTURES YOU NEED TO KNOW
Unlike its competitors, however, Apple uses some of the most advanced smartphone facial recognition systems in the market. This means no stranger can hold a photo of your face in front of your phone and unlock it. It takes way more than that to fool Apple's Face ID. Like what, you may ask? What about your evil twin?
Apple says "there is a one in a million chance that other people's faces will open your iPhone." These chances increase slightly if you have a maniacal twin or a menacing doppelgänger whose facial structures resemble yours.
Lastly, if you give away or someone sees your standard alphanumeric passcode, you can be at risk of someone unlocking your phone and deleting your Face ID entirely.
Final Thoughts 
Face ID is a wonderful tool to use on a day-to-day basis. Aside from its added security, Face ID can help you access your digital cards faster, download apps and sign in to your online accounts, all without touching your screen.
Would you use Face ID to secure your phone or do you prefer the traditional touch key passcodes? Let us know. We'd love to hear from you.
CLICK HERE TO GET THE FOX NEWS APP
For more of my tips, subscribe to my free CyberGuy Report Newsletter by clicking the "Free newsletter" link at the top of my website.
Copyright 2023 CyberGuy.com. All rights reserved.